Aeropuerto Internacional de Cancún
The Ministro Pistarini International Airport in Ezeiza is the largest Airport of the country with a traffic of more than 10 million passangers (2017). It was inaugurated in 1949 and it is located in the namegiving Ezeiza neighborhood, 35 km away from the city of Buenos Aires. It is the only Airport within the region that has air connections to the five continents. It has 2 terminals and owns sufficient infrastructure for the operation of large aircrafts.
Click here to know more about the airport
Our stores at the airport
The Ezeiza International Airport (Ministro Pistarini) in Buenos Aires is one of the busiest airports in Argentina. In addition, it is the only one in the country that offers connections to every continent. Discover all the information related to the airport stores on this page. Duty Free offers up to five duty-free shops in this airport where you will find a wide variety of name brand discounted products in the liquor or beauty sections, among others.
Whether you have just landed in the capital of Argentina or if you are flying to your next destination, you will have the option to visit our Duty Free stores in the airport. For those travelers who are in terminal A of the airport, we offer two stores in both the departures and arrivals halls: the Duty Free Shop - Ezeiza. This store is open 24 hours, so you don't have to worry about the time when shopping at the Duty Free stores at the airport.
At terminal C of the airport — departures, you will find two stores: Duty Free Shop Argentina, boutiques that have a great variety of products like fragrances and food items; a great option to liven up the unavoidable delays in the airport. In case you want to give a great gift, we suggested you visit our beauty and skincare sections, with brand name products like Giorgio Armani or Clarins at tax free prices.
Buying the most exclusive brand name products in the Duty Free airport shops is synonymous with achieving a great quality-price ratio. Thanks to the tax exemption, you will have the opportunity to enjoy your new items at incredible prices. Come visit us and discover the exclusive offers at our airport stores. See you soon!
Buenos Aires Duty Free
Location

Departures Terminal A

Shop Categories

Fragrances, Cosmetics, Beverages, Food, Electronics, Fashion, Luggage, Accesories, Souvenirs, Destination Products, Toys

Telephone

0800-333-9460 (from abroad 005411 5480 6200 INT: 8901)

Email

0800@dufry.com

Opening hours

24hrs
---
Duty Free Shop Argentina
Location

Arrivals Terminal A

Shop Categories

Fragrances, Cosmetics, Beverages, Food, Electronics, Accesories, Toys

Telephone

0800-333-9460 (from abroad 005411 5480 6200 INT: 8901)

Email

0800@dufry.com

Opening hours

24Hs
---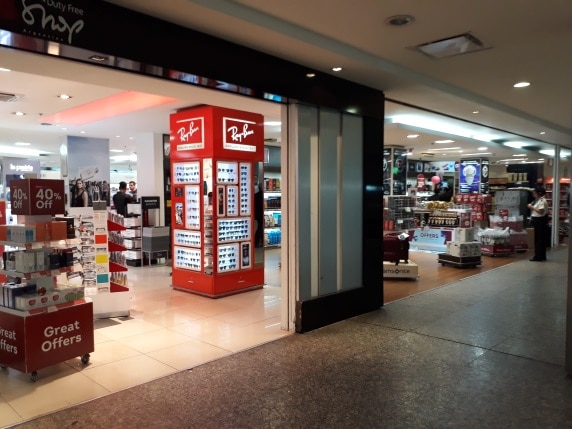 Duty Free Shop Argentina
Location

Arrivals Terminal A

Shop Categories

Fragrances, Cosmetics, Beverages, Food, Electronics, Luggage, Accesories, Toys

Telephone

0800-333-9460 (from abroad 005411 5480 6200 INT: 8901)

Email

0800@dufry.com

Opening hours

24Hs
---
Duty Free Shop Argentina
Location

Departures Terminal C

Shop Categories

Fragrances, Cosmetics, Beverages, Food, Electronics, Luggage, Accesories, Souvenirs, Destination Products, Toys

Telephone

0800-333-9460 (from abroad 005411 5480 6200 INT: 8901)

Email

0800@dufry.com

Opening hours

24hrs
---
Duty Free Shop Argentina
Location

Departures Terminal C

Shop Categories

Fragrances, Cosmetics, Beverages, Food, Electronics, Luggage, Accesories, Souvenirs, Destination Products, Toys

Telephone

0800-333-9460 (from abroad 005411 5480 6200 INT: 8901)

Email

0800@dufry.com

Opening hours

24hrs
---